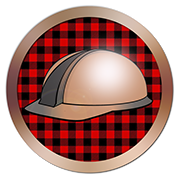 Using the Builder macOS Desktop App
Builder is a broad suite of tools for using transcripts to build stories for documentary or reality television.

Lumberjack
Builder

won a

NewBay Best of Show

Award from Digital Video at NAB 2018!!
We couldn't be happier or more proud and happily "blew" people's minds!
Lumberjack Builder solves the problem of working with transcripts, not just obtaining them, and builds on work we did in 2010 on an app called prEdit and our incorporation of transcripts into FCPX in 2015.
Which lead us to the conclusion that even a perfect transcript into FCP X isn't all that helpful, nor is Premiere Pro, despite the Text Panel.
Neither NLE has transcript-friendly tools.
In builder we rethought the entire workflow. Starting with transcriptions:
Transcripts in minutes in multiple languages
Purchase only the minutes you need, as you need them. Perfect for assigning costs to jobs.
Use existing transcripts, or transcripts in unsupported language.
Download Lumberjack Builder (Lumberjack Subscription required for use)
Quick Overview
​
Detailed Demonstration
The easiest way for an in depth view of Builder, we recommend watching through the 18 minutes of Builder Help in this Playlist. It will take approximately 18 minutes to play through all the Help, or you can view topic specific videos under each heading on the Help Page.
Clip and Metadata Management
Simply having transcripts isn't enough. The Clip and Metadata management area of Builder is where you organize the metadata and keywords for the transcripts. In Builder, a text range is equal to a Keyword Ranges (and will be a Keyword Range in FCP X). In the transcript and metadata window we can
correct the transcript,
break or combine text ranges (making new Keyword Ranges)
correct or add keywords and People.
​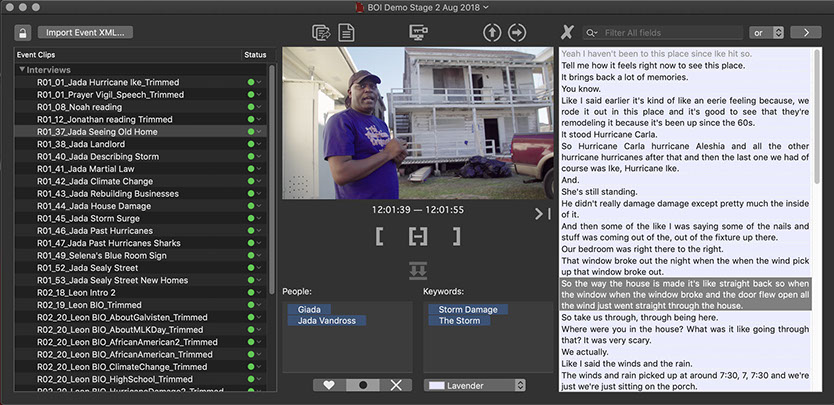 Lumberjack Builder includes a brand new Keyword Manager that allows us to
Correct spelling and rename Keywords across all uses

Merge Keyword ranges to bring similar concepts together under the one keyword

Use Keywords from Lumberjack's real time logger to rename Keywords in Builder.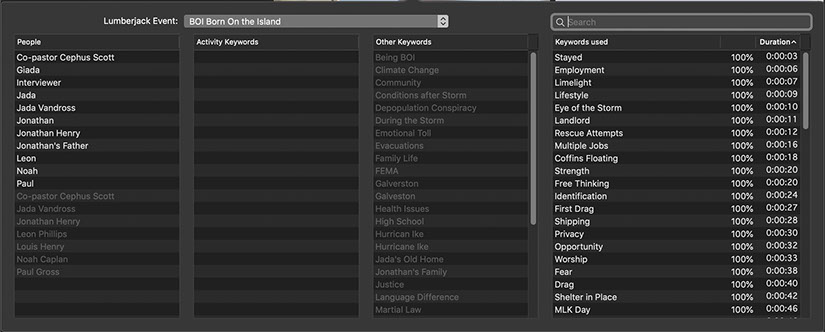 Unique Story Building Tools
We could send our transcripts and keywords back to FCP X but we all know that FCP X isn't optimized for transcript workflows. That's why we complete the workflow design with a set of unique story building tools, optimized for building stories from transcripts.
Optimized Story Building Interface
Advanced searching
Preview your story
Instantly build temporary narration.
​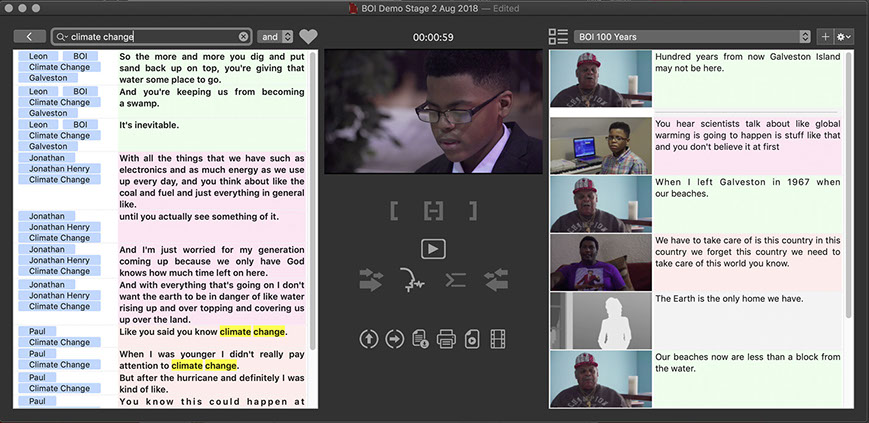 Lumberjack Builder is part of the Lumberjack subscription. Transcriptions done in Builder are not included in the subscription and are charged when you submit a batch for processing..
Example footage from Born on the Island from EditStock.com