Events are created in the Web Logger. Once created Events can be logged in the Web Logger or using the iOS Logger.
​

Click on "New Event" to create a new Event. In this window we can name the Event, and assign keywords to the Event.
​
Note: You will not have any Keywords visible until you add Location, Person, Activity and Other Keywords by clicking on "New" at the head of any keyword column. See the next heading.
You can assign the keywords used in another Event (in totality or as a starting point) from the "Use keywords from" pop-up menu.
​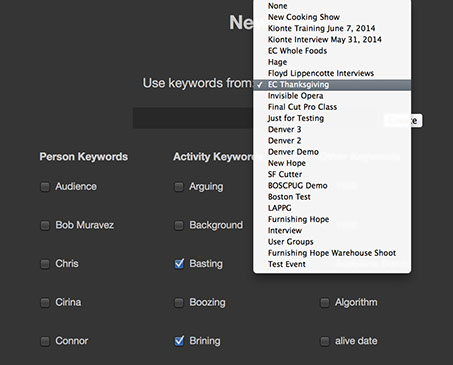 To assign a keyword to this Event, click it's check box 'on'. To unassign a keyword from the Event, click the check box 'off'.
Important: Assigning, or unassiging, a keyword from an Event ONLY removes it from displaying in the Event. The keyword is retained for later assignment to this or another Event. The keyword remains in any logs done before unassigning it from the Event. Keywords can be deleted from the Web Logger from the List view associated with each keyword type. See 'Add, Edit or Delete Keywords while Logging' on Logging with the Web Logger.