Lumberjack is designed for unscripted production where scene/shot/take do not apply. It enforces consistent keyword logging, that is customizable to the production and field updatable. Lumberjack is the perfect logging and pre-edit tool for Final Cut Pro X.
​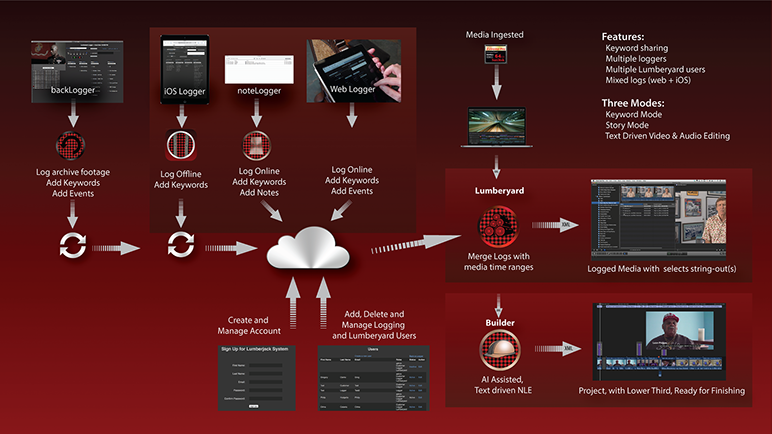 In the field, one or more people can log keyword ranges in time using the Web Logger or the iOS Logger after creating the Event in the Web Logger.
These Keyword Ranges (logged in real-world time) are aligned with the media time ranges in the Lumberyard App based on common time of day.
The Lumberyard app has several modes:
In Keyword Mode logged Keyword Ranges appear as Final Cut Pro X Keyword Ranges, and Keyword Collections, organized in folders for Location, Person, Activity and Other. You'll be more organized than you ever thought possible!
In Story Mode the logged keyword ranges can also create a pre-edit string-out of those select ranges, based on people, activites or other keywords. Keyword Ranges can be added or corrected in Final Cut Pro X before using Story mode because in Story Mode, Lumberyard uses the Keyword Ranges from the Final Cut Pro X XML. This provides a head-start on the editing.
For real-time logging archive or library footage, Lumberjack System includes backLogger
Lumberjack Builder is perfect for transcript based workflows as it edits audio and video via text with no conform required.
Lumberjack System has very flexible user management. The Manager user can create temporary or long term logger accounts, with separate account access control for Lumberyard Users as well. The Manager user also creates and manages the account. By default all new accounts assign all three roles to the user who set up the account.
Continue on to a more in-depth overview of How Lumberjack System Works.
You will probably also want to review How to get Accurate Time, and Effective Keywording Strategies.