While connected to the Internet, sign in to your account. Once your library of Events has been downloaded, Internet Access is no longer required for logging or moving between downloaded Events.
Optionally: shoot the logger interface clock with one of the cameras - if there is a camera offset, this will help the editor.
See Get Accurate Time for more details.
Tap any of the keyword buttons to start logging. The clock heading will change from white to red while logging is active. The Keyword will be highlighted with a blue square to its left.
Tap any active Keyword to to turn it off and finish the Keyword Range, or tap the 'Stop' button to finish logging the Event.
​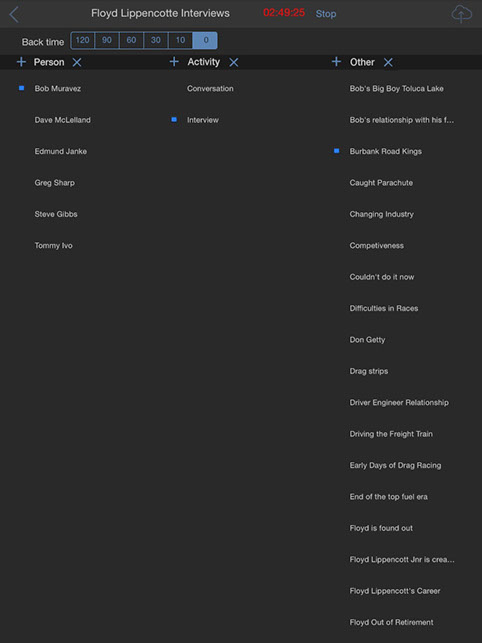 You can use as many or as few of Lumberjack's logging features as you want.
When the Lumberyard desktop app merges your Final Cut Pro X Event with the logged Lumberjack Event, Keyword Ranges are created to match the time between button 'on' and button 'off' for each keyword. Keyword ranges will appear within a clip, or spanning multiple clips from multiple cameras when displayed in Final Cut Pro X.
Lumberjack is not limited to applying keywords to full clips. Unlike other products Lumberjack logs exactly the keyword range that the operator enters in the app.