Most documentary projects are multi-year projects, and it's not reasonable to wait until the end of all shooting to start logging. It is no problem to transfer the Lumberjack Logs to FCP X at the end of each shoot, when the material is ingested to the Library, but the full value of pre-edit string-outs can't be obtained until the end of shooting.
Lumberyard can, of course, create string-outs as each Event is logged, but in Story mode you have more control over the string-outs, as well as being able to build custom pre-edit string-outs from your already-logged material as it accumulates month by month.
To use Story mode, select the Events you want to send to Lumberyard (requires FCP X 10.1.2 or later) and export the XML.
Tip: Final Cut Pro 10.3 supports drag-and-drop instead of exporting and importing XML. First, select the Lumberjack Metadata View from the popup menu in the Inspector. You can install the Metadata View from the Lumberyard Help menu.
Then drag the Event and drop it on the Lumberyard icon in the Dock. (A progress bar in Final Cut Pro X shows the XML being generated.)
When Lumberyard detects that there are already logged Keyword Collections it will switch over to Story mode and display the Keywords from the logged Events.
​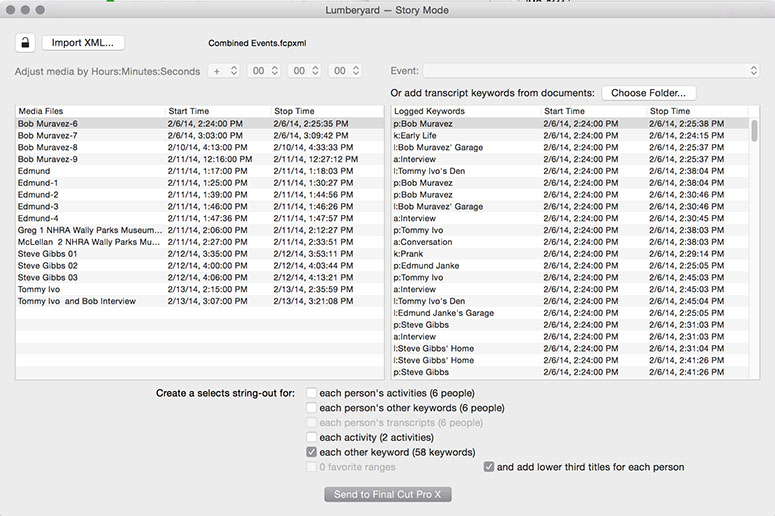 From here, make the selections for the Selects String-outs you need. Click Send to Final Cut Pro X to create a New Event in Final Cut Pro X with the String-outs Keyword Collection.
Note: Selects String-outs will only be created if there are at least three Keyword Ranges with that Keyword applied.